Fountain of Youth
ANTI AGEING
Ageing of the skin consists of change in tone and texture of the skin, depletion of collagen tissue, sagging of skin and muscle layer, loss of volume and shifting of fat pads.

Though ageing is inevitable, it cannot be stopped or reversed, but modern science has given us technology to modulate ageing whereby you can truly "AGE GRACEFULLY".
Treatment options:


Botox is a technique to relax those hyperactive muscles, which start leaving creases on the skin covering it.

It is ideal for the upper face dynamic lines giving a smoother and softer look to the treated area.

Advanced Botox is used for the mid and lower face for correction of gummy smile, perioral wrinkles, poppy chin, downturned lips and chiseling of the jawline.

Botox also has great benefit when used for hyperhidrosis (excess sweating) of the underarms and palms.
No. Of sessions: Single Sessions (Effect lasting from 4 – 8 months.)

Duration: 20 – 30 mins.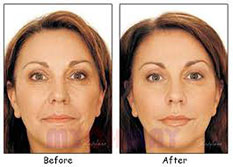 Modern day fillers consist of HLA, which are naturally occurring sugars of the skin. Since the HLA are biodegradable, they are by far the safest available fillers.

HLA fillers can correct all deep folds, sagging cheeks, sagging jawline, thinning lips and static lines. The high-density fillers are used to give the lunchtime face-lift.
No. of sessions : Single (effect lasting from 9 – 12 mths.)

Duration : 30 mins.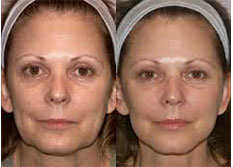 PDO threads used for lifting of sagging skin are 3rd generation absorbable threads which stays in the skin for 120 – 180 days before melting away. It is strategically placed in the deeper layers of the skin. The threads while present in the skin activated the natural regenerative process and tissue contraction. This helps in building new collagen tissues in the direction of the threads leading to "mini face lift".

The lifting effect peaks at 2 – 3 months and continues up to 6 months. The benefits last between 2 – 3 years.

No. Of sessions: varies from 1 – 3 sessions.

Duration per session: 30 – 45 mins.

Interval between 2 sessions: 3 months.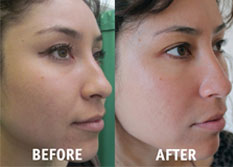 Biofacial is a process that involves processing your own blood to procure "Platelet Rich Plasma" (PRP) and reinserting on the entire face giving special attention to lines and folds. The final result is a more refreshed, even toned and rejuvenated face. It helps soften deep fold.

No. Of sessions: 1 – 3

Duration per session: 30 – 45 mins.

Interval between 2 sessions: 2 – 3 months.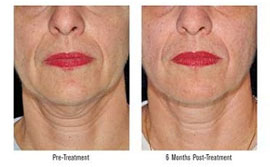 Radiofrequency (RF) energy treatment is a technology for non-surgical tightening of the early signs of loose and sagging skin; ideal for those who either don't want or haven't aged enough to have a surgical procedure.

This treatment uses RF energy, which penetrates deep into the skin helping in a lifting effect on the lax skin. This technology works on the layer, which attaches the skin to the deeper muscular face.

It benefits cheeks, mid face, jawline, neck and lax skin around the eyes.
No. Of sessions: 5

Duration per session: 45 – 60 mins.

Interval between 2 sessions: 1 month.

IPL / Photofacial is a special flash of light which gets absorbed by the dermal layer of the skin. It stimulates the production of collagen, which plumps up the skin. It tightens large pores giving a smoother more refined look to the skin. It also works on broken vessels / capillaries, reducing the severity of rosacea and reduces brown (age) spots.
No. Of sessions: 5

Duration per session: 30 mins.

Interval between 2 sessions: once a month.


The collimated, fractional and long pulse mode in our Q Switch laser all together improves the tone and texture of the skin. It improves age spots, uneven skin color, open pores and fine lines.

The Q Switch heats beneath the skin to allow healing below the surface. It heals and tightens the skin from the inside out to reveal a uniform tone.

If you have a busy life, this treatment works best for you – Zero downtime.
No. Of sessions: 4 – 8 sessions.

Duration per session: 30 mins.

Interval between 2 sessions: 15 – 21 days.